Peter Boronkay: "The sport has taught me to accept me"
We spoke with Peter Boronkay, one of the more successful, thanks to its self-improvement Hungarian athletes.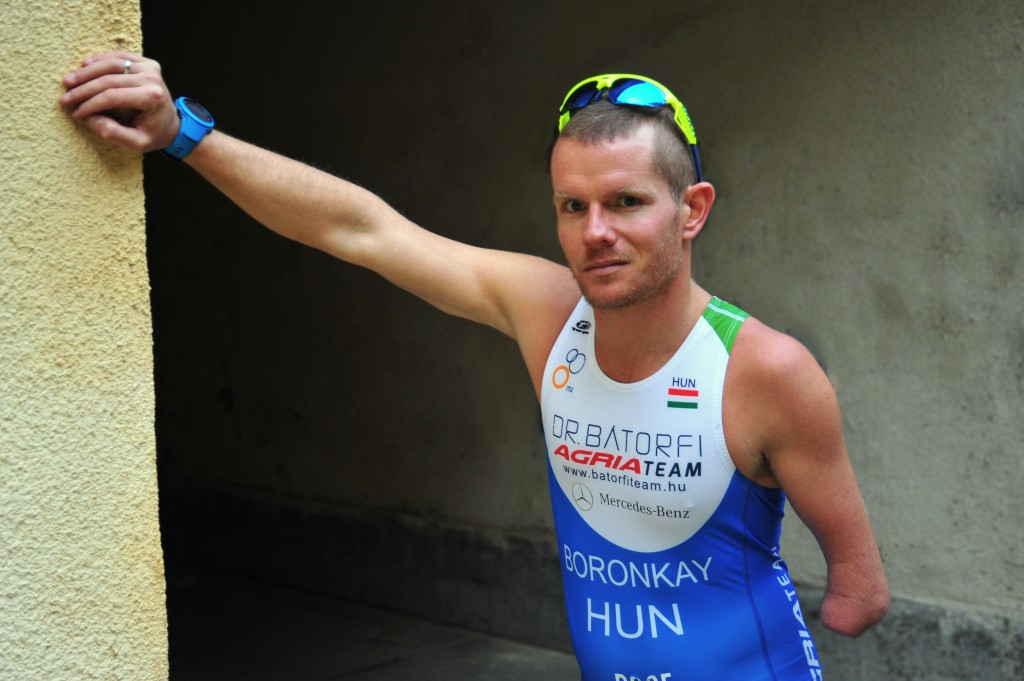 Deporlovers
|
9 noviembre, 2015

Deporlovers talks with Peter Boronkay
Con la colaboración de Jorge de Reval
[Photography: Jorge de Reval
Facebook Photographer]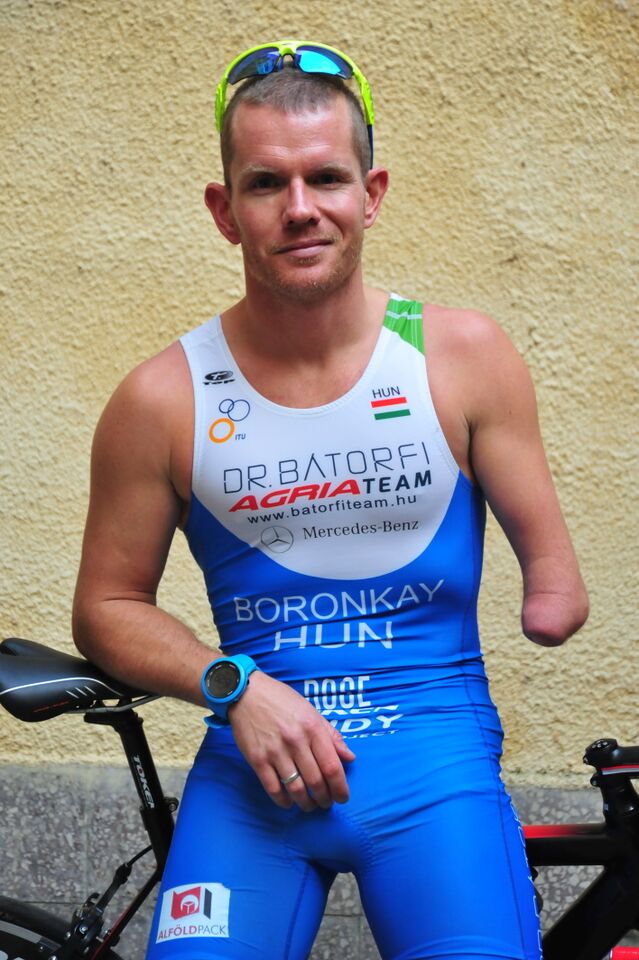 Bio
Name: Peter Boronkay
Nickname: Rablo
Born:  26.06.81
Nationality:  Hungarian
Lives:  Kecskemét, Hungary
Hobbies: XTerra, hiking, travel
Philosophy: "You must find joy in suffering"
"Challenges know no borders"
"Impossible is nothing"
Highlight Results
2x Triathlon World Champion
6x Triathlon European champion
3x Cross Triathlon World Champion
Multiple World Cup and podium winner
Deporlovers: When did you decide to combine the three sports (running, cycling and swimming)? How did you discover that your passion wasn't only swimming?
Peter Boronkay: "I was born with a left arm deficiency, therefor my parents made me do adapted Physical Education and swimming. With years I started to love swimming more and more so I started to take it more seriously. I was part of the Hungarian national team twice and I even made it to the European Championship and later to the World Championship. In 2004 I was part of the Hungarian Paralympic Team, however 3 months before the competition I was left out because my qualification time wasn't good enough. It was a very big dissapointment for me, my career almost ended, I gave up professional swimming. Luckily a little bit later I was introduced to triathlon which made me very successful later on.
In 2007 I attended a duathlon race at Győr, Hungary and there I met this man from the Interntional Triathlon Union who told me that para-athlets are also revarded during the Word Cup that year. I became very enthusiastic and I decided to attend the World championship In Hamburg, Germany. I ended up being 4th in my category. From this year up until 2012 I finished on the podium at every single race I attended. I also won the world championship in cross triathlon 3 times".
[Bal alkar hiánnyal születtem, emiatt szüleim gyógyúszásra kezdtek el járatni 8-10 évesen. Az évek során egyre jobban megszerettem az úszást, ezért komolyabban kezdtem foglalkozni a vele. Kétszer voltam magyar válogatott, majd kijutottam egy Európa Bajnokságra és egy Világbajnokságra is. 2004-ben az athéni paralimpia bő keretében benne voltam, azonban 3 hónappal a verseny előtt kikerültem, mert nem sikerült több számban is szintidőt úsznom. Ez az időszak egy nagy törés volt az életemben, és innentől kezdve verseny szinten nem foglalkoztam az úszással. Hála Istennek, nem sokkal később megtaláltam a triatlont, amiben igazán sikeres lehettem.
Ez úgy történt, hogy 2007-ben egy győri duatlon versenyen indultam. Ott találkoztam egy úrral a Nemzetközi Triatlon Szövetségtől, akitől megtudtam, hogy a 2007-es világbajnokságon a parasportolókat is díjazni fogják. Ezen fellelkesülve részt vettem a hamburgi VBn versenyen, és kategóriámban a 4. helyen végeztem. Tulajdonképpen ezután 2012-ig dobogós voltam mind az EB-n, mind pedig a VB-n, tereptriatlonban pedig már 3 világbajnoki címet szereztem].
 D: Swimming, running or cycling? Why?
P.B: "Cycling. To be more specific I love MTB the most because I love nature. Now I like running more and more, especially since my results are getting better and better thanks to my new coach -Gyula Németh, a wellknown Hungarian expert. I must admit that swimming is a must, i find it very hard to wake up early in the morning for my swimming practices. However, I got my mind set on some new goals so I'll do what I have to do to reach them".
[A kerékpározás, azon belül is a MTBot szeretem a legjobban, imádok a természetben bringázni. A futást is egyre jobban szeretem, főleg amióta javítottam is egy kicsit, és köszönhetem az új edzőmnek is, Német Gyulának aki elismert szakember a magyar futásban. Az úszást muszájból csinálom, nehezemre esik minden nap hajnalban lejárni edzésre, de mindig a célok lebegnek előttem, így nincs mese, menni kell].
D: Was it difficult to adapt your physical disability (left arm) for triathlon?
P.B: "No, not really. In thriathlon a 'non drafting' method is being used, all athletes use TT bikes. During these races I never wear my prosthesis, however for my MTB bike I have to wear it due to the difficulty of that track and the right seat position".
[Nem, különösebb problémát nem okozott. Mivel nálunk "non drafting" van a versenyeken, így mindenki időfutam kerékpárral teljesíti a távot. Itt én nem használok protézist, de a MTB kerékpárhoz már igen a pálya nehézsége és a helyes üléspozíció miatt].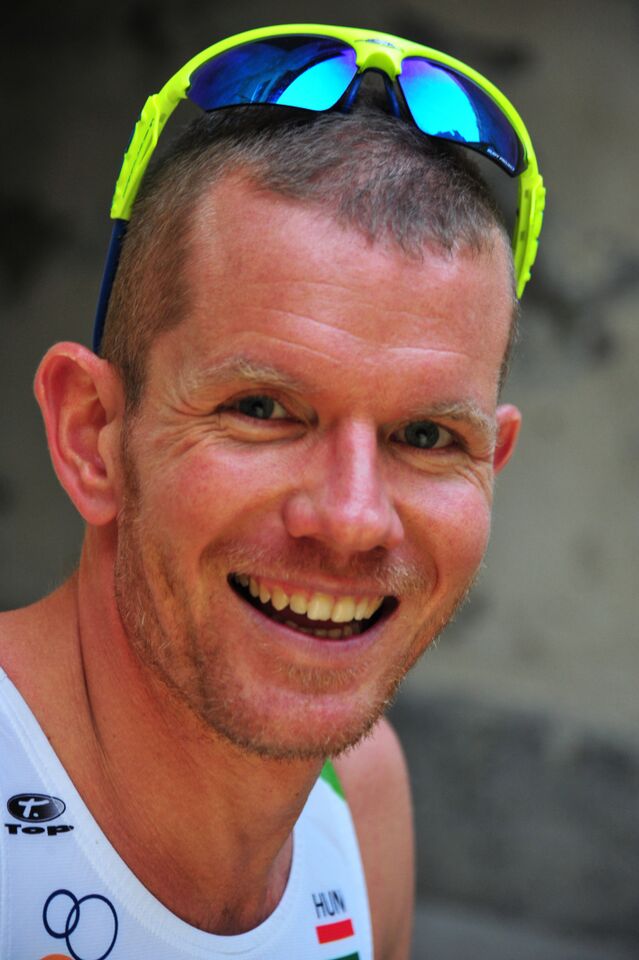 D: You were born that way, but there are athletes who lose their arm after fatal accident. What is your message of motivation and support? How should they face the sport and the life from that moment?
P.B: "I consider myself "lucky" in a way, because I was born with this deficiency. Loosing a hand during your life must be more difficult I think. I accepted the fact that I was born this way, I can not and must not wait for miracles to happen you know. We have to bring out the best from what we got from God. Everyone must find a way that helps them to create advantages from the disadvantages. I am very greatful to my parents because they raised me with this kind of attitude. Sport helped me accept myself and after I started to become succesful in sport my self-confidence started to increase as well. It helped me a lot in other fields of life too. For disabled people like myself, sport can be one of the best way of recreation and rehabilitation. We can even become more than our 'normal' fellow-beings".
[Abban a "szerencsés" helyzetben vagyok, hogy így születtem, és nem az életem során veszítettem el a bal alkarom, elfogadtam. Nem várhatok a csodára, hogy majd jön egy jótündér és megváltozik minden. Abból kell kihoznunk a legjobbat, amit a jóisten nekünk adott. Mindenkinek meg kell találni azt az utat, mely által  a hátrányából előnyt tudjon kovácsolni. Hálás vagyok a szüleimnek, hogy így neveltek.
A sport megtanított elfogadni magamat, a sikerek után jött az önbizalom is, melynek köszönhetően nem csak a sportban, de az élet más területein is sikereket tudtam elérni. Egy sérült embernek a sport az egyik legjobb rehabilitációs módszer, mely által akár több is lehet ép embertársainál].
D: What aspects of triathlon you want to improve?
P.B: "I do hope that I can improve in all 3 aspects, plus I have to pay more attention to my transition management. I think that I'm a little bit behind on swimming and running so right now my goal is to improve in these elements".
[Remélem mind a három sportágban javítani tudok folyamatosan, és a depózásomra is nagyobb hangsúly fektetek.  Az úszás és a futás az, ahol kicsit le vagy ok maradva a mezőnytől, ezen kell javítsak].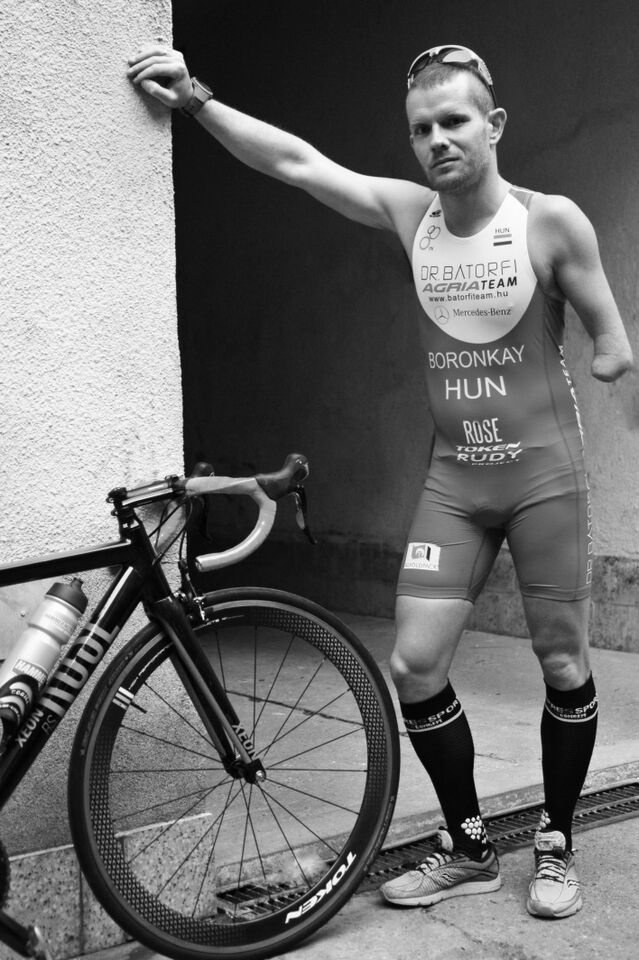 D: Are you aware of the fascination that cause paralympics? An Ironman isn't apt for anyone. Instead, what means this challenge for you?
P.B: "Usually our races are sprint races (short distance). An Ironman challenge recquivers a very different practice and workout. In 2012 I attended an Ironman challenge myself in Zurich, Switzerland. I finished in 11 hours and 23 minutes. Right now my main goal is the Paralympic Games but I'm pretty sure I will attend some more Ironman races later. Most triathlonist dream about the famous Hawaiian race, I hope I will be able to fulfill this goal some day".
[Nálunk Sprint távon zajlanak a versenyek, egészen más edzésmunkát igényel egy Ironmanre való felkészülés. 2012-ben Zürichben megcsináltam egy ironmant, 11óra 23perces idővel, egyenlőre most a paralimpiai felkészülésé a fő szerep, de biztos vagyok benne, hogy több ironmant is végig fogok csinálni még. Mint a legtöbb triatlonosnak, nekem is álom, hogy egyszer Hawaiion, a triatlonmekkájában célba érjek.  Azt szoktam javasolni azoknak, akik segítséget kérnek tőlem, hogy apró, rövidebb célokat tűzzenek ki magul elé, legyen az egy sprint triatlon, egy teljesítménytúra, vagy az első 5km lefutása].
D: The limited economic aid to the Paralympians, how do they affect your career?
P.B: "For the races that are necessary for the paralympic qualification I get a lot of help from the Hungarian Paralympic Committee and the Hungarian Triathlon Association. Luckily, as the time of the Paralympic Games is getting closer I get more and more support. I hope they will last after the Games as well. Right now the technical background is good, however I must admit that I had to bring almost everything together. My bicycle sponsor is the german factory: ROSE bike, I get my wheels from the taiwanese company: TOKEN products and my helmets and sport eyewear is coming from RUDY PROJECT, just to mention a couple from my main sponsors"
[Azokra a versenyekre, amelyek a paralimpiai kvalifikációhoz szükséges, a Paralimpiai Bizottság és a Magyar Triatlon Szövetség segítségével jutok el. Egyértelmű, hogy a paralimpia közeledtével egyre nagyobb támogatásra tudok szert tenni, remélem a Játékok után is kitart a partnerek lelkesedése. A technikai háttér jelenleg adott, hozzáteszem, magam "gereblyéztem" össze szinte mindent, ami a sporteszközöket illeti. Kerékpárjaimat a német Rosebikes biztosítja, kerekek a taiwani Token cégtől kapom, fejvédőket és sportszemüveget pedig a Rudy Projecttől kaptam- csak hogy néhányat megemlítsek].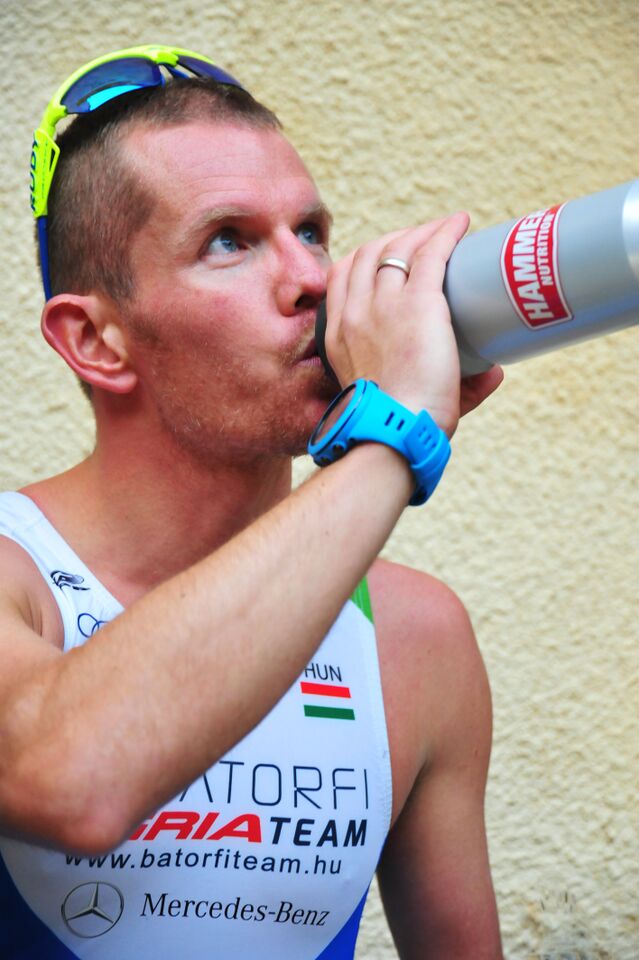 D: You are Graduate in Social Work. But, what isyour real vocation? The triathlon or your studies?
 P.B: "I always had to work besides my sport career. After university, I graduated as a social worker and I worked at a drug clinic for 4 years. Later on I started to work as a PE teacher in a primary school and children's home for handicapped, and mentally disabled children. Once I was a bike courier for couple of months In Vienna. Right now I'm in a very lucky position as sport is my main occupation but I try to volunteer for many civil and charity events. As a professional triathlon athlete my life is not just about swimming, cycling and running.
I have to bulid a 'brand', I have to sell myself somehow to the sponsors and to the fans. You have to make them proud and satisfied. In Hungary it is a very hard job as I don't have a profession managament team behind me. Everything I have I made it myself. I attend a lot of media events, school visits, presentations, and reports. It takes a lot of work and time to do everything alone. And of course I have to mention that I am a family man, I have a wonderful wife with whom we are working on our first baby"
[Az élet úgy hozta, hogy sokat kellett dolgoznom az élsport mellett. Mivel szociális munkásként végeztem az egyetemen, így egy drogambulancián dolgoztam 4 évet kábítószer problémás fiatalokkal, majd egy gyerekotthonban állami gondozott közép, és halmozottan súlyos fogyatékos gyerekekkel foglalkoztam. Testnevelő tanárként is dolgoztam az edzői végzettségemnek köszönhetően, de voltam kerékpáros futár is pár hónapig Bécsben. Jelenleg abban a szerencsés helyzetben vagyok, hogy csak a sporttal kelljen foglalkozzam, de több jótékonysági önkéntes megmozdulásban is jelen vagyok. A triatlon egy élsportoló életében nem csak az úszásból, a kerékpározásból és a futásból áll.
Folyamatosan "brand"et kell építeni, mint egy terméket, eladhatóvá tenni magadat úgy, hogy a neked szurkoló közösség, a szponzorok-támogatók büszkék és elégedettek legyenek. Magyarországon ez iszonyat nehéz egy hivatásos menedzser nélkül egyéni sportolóként, főleg parasportolóként. Többnyire mindent magam értem el, magam intézem a sajtómegjelenéseimet, iskolákban és céges rendezvényeken való előadásaimat, beszámolóimat, ami nem kis munkával jár. E mellett ne feledkezzünk meg a családi- és magánéletről sem, feleségemmel a családalapításon is dolgozunk].
D: What are your the next sporting objectives?
P.B: "Right now I'm on my season-end break, I start practicing for the next season in the beginning of November. If everything goes as planned, I start my year at a practice camp in Spain, and later I will travel to South-Africa and Australia for the World Cups. In May I'm travelling to Lisbon, Portugal for the European Championship. In July the qualification for the Paralympic Games in Rio closes and hopefully I can be there. I have to be there, I belong there!"
[Jelenleg a szezon végi pihenőmet töltöm, november elején kezdem az alapozást a következő évre. Ha minden a tervek szerint megy, akkor egy spanyolországi edzőtáborban kezdem az évet, majd dél Afrikában és ausztráliában állok rajthoz Világkupán. Májusban Európa bajnokság Lisszabonban, Júni végén pedig lezárul a kvalifikáció a paralimpiára, melyen remélhetőleg ott leszek, hisz ott a helyem!]
También te puede interesar